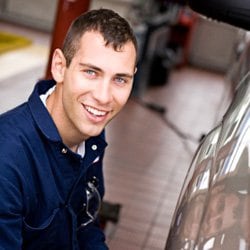 Get it Done Right at Our Parts Center
Our parts department is here and ready to handle any project that may come up. We will work to understand what you are looking for, secure it, and get it to you in no time. This is just another way we stand out from the crowd. Call or visit our parts center on the corner of State Route 36 and County Route 66 to experience the quality we have to offer for yourself, and find Ford parts for sale in Hornell, NY.
Genuine Parts
Using an aftermarket part for your DIY project in Bath can lead to a solution you aren't looking for. In fact, some of these parts will not even fix the problem. That is why it is so important to use genuine OEM parts. We offer a wide range of components that will keep your new Ford F-150 or Ford Bronco running the way it should.
Some of the parts you can find here include:
A New Battery
Brake Pads or Rotors
Oil and Other Filters
Excellent Accessories
We don't only offer genuine parts at our center. Customers can also find excellent accessories to help match your Ford Explorer to your Andover driving needs. Whether you are looking for functional or aesthetic accessories, you should find your solution here.
Many shoppers visit us looking for the right accessory for their next adventure. From roof racks to weather-proof floormats, these components can make that trip a success. Customers have also visited us for new wheel options.
Specials and Savings
Handling maintenance or automotive repair can be a real headache. To make your project near Wayland easier, we offer parts specials. These deals are focused on saving you money and can cover common needs, including new oil filters.
Our professionals want these specials to always help you out. That is why we constantly update and replace our current parts specials. So, be sure to ask if you qualify for any deal during your next visit. You should also check back soon if you don't see a parts special that works for you.
Ordering Your Parts Online
Customers that live on nearby State Route 21 or shoppers from the Dansville area can now order their needed parts online. To get started, enter some contact information so that we know whom we are working with. This also helps us get ahold of you if anything comes up.
Then, we will need to know what part you are looking for. If you know the number, feel free to enter it and hit submit. You can also call one of our professionals if you need help finding the right part number for your specific needs.
Our Service Center
Not only do we have an excellent parts department, but we have a service center that is ready to handle your job. Our parts center equips these technicians with the right parts for any Ford Ranger or Ford Escape. Whether you are looking for an oil change or a tire rotation, feel free to visit us.
You can also schedule your service appointment from the comfort of your home. This form can be completed during your work break or morning coffee. Just pick a date/time that works for you and hit send.
Visit Our Parts Center in Hornell Today
You can find our parts center near I-86. This convenient location allows customers throughout the Rochester area to get to us in no time. Visit soon and find the right parts or accessories for your current project. We look forward to making your job a success and ensuring your Ford Mustang is working just the way it should.